NEWS (June 28th, 2008):
THE HUNTING PARTY is now available on DVD. The film, written and directed by Richard Shepard, is a dark comedy about a team of journalists that attempt to hunt down an alleged Bosnian war criminal. The cast includes Richard Gere, Terrence Howard, Diane Kruger, Joy Bryant, Jesse Eisenberg, Dylan Baker, James Brolin, and many Bosnian, Croatian and Serbian actors. The film made its premiere at the prestigious Venice International Film Festival prior to its regular release curso after effects por ebaconline. Watch the trailer on YouTube or at Yahoo! Movies.
Richard is currently wrapping up directing duties on a comedy pilot for ABC titled THE BAD MOTHER'S HANDBOOK with Alicia Silverstone, Megan Mullally, and Alia Shawkat.
Richard directed Episode 210 of NBC's 30 ROCK that aired on January 10th. Americans, you can watch the episode online at NBC's website. Everybody else can check out the musical number that closed the episode on YouTube.
Check out a video interview that Richard did with ThinkTalk.com at the time of the release of THE MATADOR.
Congratulations to Richard Shepard, recipient of this year's Emmy Award for Best Directing for a Comedy Series! Shepard received the award for his work on the pilot episode of UGLY BETTY.
Richard Shepard has won the Directors Guild of America Award for Outstanding Directorial Achievement in a Comedy Series for his direction of the pilot episode of UGLY BETTY.
THE MATADOR is now available on DVD, so order the Widescreen DVD or Fullscreen DVD today. Richard Shepard's latest writing and directing effort stars Pierce Brosnan, Greg Kinnear, Hope Davis, Philip Baker Hall, Adam Scott, and Dylan Baker. The film was shot over 40 days in Mexico City and was produced by Pierce Brosnan & Beau St. Clair (Irish Dreamtime) and Sean & Bryan Furst (Furst Films). Pierce Brosnan's official website has some behind-the-scenes photos from the shoot. (For anybody wondering about all the mustaches, many of the gentlemen working on the movie decided to grow them in solidarity with Mr. Brosnan, whose character sports a mustache.) THE MATADOR premiered at the 2005 Sundance Film Festival and walked away with great reviews and a $7.5 million deal with Miramax Films and The Weinstein Company, which picked up the North American distribution rights to the movie. The film's festival travels also garnered Richard an award for Best Director at the Fort Lauderdale International Film Festival. Visit the official website for THE MATADOR and read Richard Shepard's notes on the film's soundtrack release.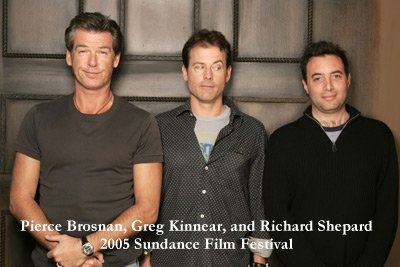 Richard Shepard: "Congrats are in order to Silvio, Teri, Ben, Salma, Pepe and the entire cast and crew of Ugly Betty, that got picked up by ABC for the fall schedule. Success could not happen to a nicer group of people!" Richard directed the pilot of Ugly Betty, the hit hourlong comedy/drama starring America Fererra (of Real Women Have Curves and The Sisterhood of the Traveling Pants) as a plain young woman who is hired on at a fashion magazine. The show, written by Silvio Horta, is based on a Columbian soap opera and is being executive produced by Horta, Ben Silverman, Jose Tamez, and Salma Hayek. Ugly Betty airs on Thursdays on ABC and has been picked up for a full season.
'Panic' attack for Shepard
Helmer to direct pic based on Abbott novel
The Weinstein Co.'s Harvey Weinstein has set screenwriter Richard Regen to adapt the Jeff Abbott novel "Panic," with Richard Shepard to direct. Weinstein Co. bought rights last summer to the espionage thriller, which revolves around a documaker who's summoned home by his mother, only to find she's been slain, Dad is missing, and he's being shot at. As he unravels the mystery, he learns his whole life was a lie, his parents were agents, and even his girlfriend might be part of a conspiracy plot.
"We have a very stylish 1970s-type paranoid action thriller on our hands," Shepard said. "It's exactly the type of studio movie I want to be doing aside from my own material: something that's smart and visually inventive."
Regen, who most recently wrote for Bill Mechanic a drama based on the true heist tale of Heather Tallchief, will write "Panic" while Shepard heads off to next direct his script "Spring Break in Bosnia" this summer for Warner Independent and producers Mark Johnson and Scott Kroopf.
Shepard, who directed "Matador" for the Weinstein Co., has a pilot-directing deal with Touchstone and is helming the pilot "Ugly Betty" for ABC and producers Ben Silverman and Salma Hayek.
TWC co-prexy of production Michael Cole will shepherd the Shepard pic with execs Eric Robinson and Brendan Deneen, the latter of whom brought in the book. (Michael Fleming, Variety, March 7, 2006)
Richard has written a great article for the Fall 2005 issue of Filmmaker Magazine titled Escape From Movie Jail. Click on the title to read it online, or pick up a copy of the publication at a newsstand near you.
A Bill Clinton interview in The American Prospect offers an interesting mention of OXYGEN:
When Sylvia Plachy and I walked into Bill Clinton's Harlem office around 2:30 p.m. on Sept. 8, the former president was courteous to me, but he was more interested in telling Sylvia -- who, aside from being a world-renowned photographer, is the mother of Oscar-winning actor Adrien Brody -- that he'd enjoyed The Pianist, but he'd also recently rented and loved Oxygen, a 1999 thriller in which Brody played a kidnapper. How Clinton pulled that one out we didn't ask; we just took it as a quick reminder that there is such a thing as a president with broad intellectual and cultural interests, and got down to business. - Michael Tomasky
An interview with Richard Shepard (at JackassCritics.com). Well worth the read.
Website-related questions, comments, and additions can be directed to: webmaster (at) www.richardshepard.com
E-mail for Richard Shepard can be sent to this address: SaltyShep (at) aol.com
www.richardshepard.com