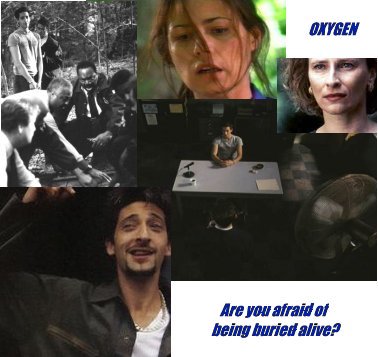 OXYGEN Cast Bios (from Curb Entertainment):
MAURA TIERNEY (Madeline)
With the role of troubled cop Madeline Foster proves herself again as one of this generation's most versatile and talented young actresses. Maura mixes both television and movies, starring in the NBC sitcom NEWSRADIO, while appearing in such big screen hits as LIAR LIAR and PRIMARY COLORS. This year, besides OXYGEN, Maura will co-star with Anthony Hopkins and Cuba Gooding Jr. in INSTINCT and star with Ben Affleck and Sandra Bullock in FORCES OF NATURE. OXYGEN came to Maura's attention because of the long friendship (since N.Y.U.) with writer/director Richard Shepard. "Richard shows me a lot of his scripts in early forms and this one blew me away. I told him you can't make this movie without me," says Tierney. Shepard worked with his old friend in shaping the character of Madeline. "Madeline is one dark character," says Shepard. "I knew Maura had the acting chops to do it, and I wanted to show the world what she was capable of. I couldn't be more pleased."
ADRIEN BRODY (Harry)
Taking on the challenging role of the sexy, funny and dangerous kidnapper Harry in OXYGEN proves to be another feather in the cap of 26 year old Adrien Brody. After smaller roles in such films as Steven Soderbergh's KING OF THE HILL, Adrien got cast as one of the leadds of Terrence Malick's long awaited film THE THIN RED LINE. Besides OXYGEN, Adrien appears in the indie films TEN BENNY and SIX WAYS TO SUNDAY and has the starring role in SUMMER OF SAM, the newest film by Spike Lee. Following that, the ever busy Brody will star in Barry Levinson's fourth Baltimore period piece. How did OXYGEN happen in between working for directors Malick, Lee and Levinson? "I loved the script and I really wanted to play a bad guy, instead of the sensitive good guy roles I've played recently, and Harry is a great bad guy." Shepard interviewed hundreds of the best young actors out there before finally settling on Brody after a series of meetings and a late night audition with Brody and Tierney at Shepard's New York apartment. "Adrien had everything we were looking for," says Shepard. "His chemistry with Maura at the audition was amazing and once we started shooting, it only increased. I'm scared how good an actor Adrien is."
JAMES NAUGHTON (Clarke Hannon)
A two-time Tony Award winning veteran of Broadway (his first Broadway show was in 1977), James Naughton plied his film talents to play the distraught combative husband of the kidnap victim in OXYGEN. With a history of films such as THE GOOD MOTHER, THE GLASS MENAGERIE, and THE PAPER CHASE, James contributes a commanding presence to his character's drama. "And hen he opens his mouth," lauds Shepard, "that unmistakable, distinguished voice always steals the moment." James worked on OXYGEN during his days off while performing a one-man show Off-Broadway. Clarke Hannon stays awake for 24 hours in the film, worrying about his wife. For James, though, it seems he'll never run low on energy. Summers, James is a heavy participant in the acclaimed Williamstown Theatre Festival.
TERRY KINNEY (Tim Kirkman)
Terry Kinney brings his passion, talent and humanity to the role of Tim, the police captain and Madeline's passionate, yet in-the-dark husband. "Terry took a role that was only marginal on paper, and created a completely real, complex person" says director Shepard. Kinney, a theater veteran, Tony nominee and a founding member of the legendary Steppenwolf Theater company, has appeared in numerous films including SLEEPERS, FLY AWAY HOME and DEVIL IN A BLUE DRESS. On television, he stars in OZ, the HBO series. "I'm a big fan of Maura Tierney's, and I loved the script," says Kinney. "Doing this film was a no-brainer."
LAILA ROBINS (Frances Hannon)
The beautiful and talented Laila Robins brings a fierce integrity to the incredibly complex role of Frances Hannon -- the woman buried alive in OXYGEN. "This was in a way the hardest part to cast," says Shepard. "She had to be beautiful, play someone you believed was an upper East Side wife, and then become this almost feral woman doing whatever she can to survive." Shepard lucked out with Robins, who has appeared in such films as THE BLOOD ORANGES, FEMALE PERVERSIONS and Clint Eastwood's upcoming TRUE CRIME. The Yale trained actress is also a theater veteran working with such directors as Mike Nichols and John Madden. "Frances was an incredibly challenging role," reflects Robins. "I love a good challenge." Robins met the challenge. She is the first actor that Shepard has ever offered a part to right in the audition. "You can't get better than her," says the director.
PAUL CALDERON (Jesse)
Born in Puerto Rico and raised on the Lower East Side and Spanish Harlem, Paul Calderon worked as a martial arts instructor, a trailcutter in the Amazon, and a mambo instructor before becoming an actor and working with such directors as Steven Soderbergh, James Mangold, Spike Lee, Quentin Tarantino and Abel Ferrara. It took only Calderon's initial interest in the part of Maura Tierney's police partner for director Shepard to cast him. "I loved the script," says Calderon. "It read like a great suspense novel. I really wanted to be a part of it." Calderon improvised a lot on the set, re-writing much of his dialog to make it more "real." "You couldn't ask for more from an actor that that," says the director. Paul Calderon has appeared in such films as OUT OF SIGHT, ONE TOUGH COP, COPLAND, CLOCKERS, PULP FICTION, Q&A and THE BAD LIEUTENANT.
DYLAN BAKER (Jackson Lantham)
Soon, Dylan Baker will be most recognizable the dark, disturbed star of the upcoming controversial Todd Solondz film HAPPINESS. For OXYGEN, however, Baker follows his turns in television's FEDS and MURDER ONE with the character of the "big gun" FBI agent who assumed he will break the case. As Shepard explains, "Dylan found the comedy in this guy, derived from his own FBI-schooled arrogance, without playing it for laughs for even a second. And he brilliantly manages to carry a three minute monologue without giving the audience a chance to blink." Baker can also be seen in the upcoming VANILLA FOG and the new Woody Allen film.
Back: The Films of Richard Shepard - Oxygen

www.richardshepard.com