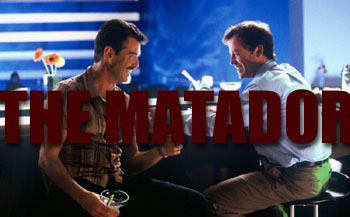 Written and Directed by Richard Shepard
Starring Pierce Brosnan, Greg Kinnear, Hope Davis, Philip Baker Hall, Adam Scott, and Dylan Baker
Produced by Bryan Furst, Sean Furst, Beau St. Clair, and Pierce Brosnan
FESTIVALS
Sundance Film Festival 2005 (World Premiere)
31st Deauville Film Festival of American Cinema
The 30th Toronto International Film Festival (Canadian Premiere)
San Diego Film Festival 2005 - WINNER! The Audience Award
Mill Valley Film Festival No. 28 (Oct. 6, 2005)
41st Chicago International Film Festival (Oct. 9 and 15, 2005)
Fort Lauderdale International Film Festival 2005 (Oct. 14 and 29, 2005) WINNER! Best Director: Richard Shepard
The 13th Annual Hamptons International Film Festival (Oct. 20, 2005)
The Times' BFI 49th London Film Festival (Oct. 24 and 31, 2005)
The 2005 Austin Film Festival (Oct. 22, 2005)
The 28th Starz Denver Film Festival (Nov. 20, 2005)
CHOICE PRESS
Ain't It Cool News - Elston Gunn interviews Richard Shepard (December 15, 2005)
Austin Daze - Director Richard Shepard (August 29, 2006)
The Boston Phoenix - Die Another Day (January 6-12, 2006)
Comingsoon.net - Exclusive: The Matador's Richard Shepard (January 4, 2006)
Development-Hell.com: Interview with Richard Shepard (January 9, 2006)
Gen Art Pulse - Video interview with Richard Shepard (video begins right away)
KCRW - The Business - Interview with Richard Shepard prior to Sundance (begins ~3.:28) (January 17, 2005)
KCRW - The Business - Following Richard Shepard during Sundance (May 31, 2005)
KCRW - The Treatment - Interview with Richard Shepard (January 11, 2006)
Roger Ebert - A sunny surprise Matador upends expectation (Sundance review) (currently offline)
Roger Ebert - The Matador (review) (January 6, 2006)
The Hollywood Reporter - Weinstein takes bull by horns (trade announcement) (January 25, 2005)
Entertainment Insider - EI Talks with Richard Shepard and the Furst brothers (Winter 2005)
Filmmaker Magazine - Dance Class (scroll about 1/4 of the page down) (Winter 2005)
Film & Video - Richard Shepard on Second Acts (November 1, 2005)
Moviehole.net - Richard Shepard Interview (October 27, 2005)
The Observer - Me and my travels - Richard Shepard (February 19, 2006)
Ottawa Citizen - Brosnan slips the surly Bonds (currently offline)
Paul Harris Online - Interview with Richard Shepard (MP3)
Philadelphia Daily News - Director Shepard gets free rein with 'Matador' (January 6, 2006)
The Radio Dan Show - Guest Richard Shepard (March 19, 2007)
ThinkTalk.com - Interview with Richard Shepard
The Times-Picayune (New Orleans) - Matador director now in big(ger) leagues (requires registration) (January 27, 2006)
The Washington Times - 'Matador' gives auteur a new start (January 4, 2006)
And visit The Pierce Brosnan Files for a very lengthy list of links to additional articles on The Matador.
HISTORY AND UPDATES
May 2, 2006:
The Matador will be released on DVD across North America on July 4, 2006. Pre-order the Widescreen DVD or Fullscreen DVD. Extra features include two DVD commentaries, one with Richard Shepard solo, and the other with Shepard, Pierce Brosnan, and Greg Kinnear. There are also a handful of deleted scenes, a short behind-the-scene featurette learn, and the KCRW The Business and The Treatment radio segments with Shepard.
January 31, 2006:
The Matador is now in wide release! The film opened on 4 screens on December 30th, expanded to 12 screens on January 6th, then 66 screens across North America on January 20th. On Friday, January 27th, the film began playing on 885 screens and made the top ten in the weekend box office rankings.
January 13, 2006:
A soundtrack CD, including songs used in the film and pieces of Rolfe Kent's score, is available for purchase. Read Richard Shepard's notes on the soundtrack release.
December 30, 2005:
The Matador opens in theatres today in New York and Los Angeles.
December 14, 2005:
Richard Shepard: "Huge congrats are in order for Pierce Brosnan and his Golden Globe Nomination for The Matador. I'm so proud of Pierce and the brilliant work he did on the film."
October 14, 2005:
Richard Shepard: "I'm on a twelve city press, film festival tour for The Matador. The Mill Valley, Chicago, Hamptons, Austin, London, Denver film festivals, then Miami, Philly, DC, Boston, Atlanta, New Jersey for special screenings and press. All in anticipation for our opening in December. I also want to give a big shout out to the cast and crew of CBS' Criminal Minds for getting picked up for the second half of the season. While I only directed the pilot, and have nothing to do with the daily grind of every episode, I am thrilled for my friends and wish them continued success!"
September 28, 2005:
Richard Shepard: "So, because of a myriad of reasons, most notably Pierce's availability to do press, we're moving the release date of The Matador back six weeks to December 23rd, 2005. It will open in NY and LA and then go very wide in the following weeks. Pierce is off to shoot Seraphim with Liam Neeson and can't do the Letterman/Today Show/Conan axis of media needed for the release of a movie like this. So we're pushing back a few weeks so Pierce can shill for us correctly like the champ that he is!"
September 19, 2005:
The official website for The Matador is up.
The Matador continues to show at festivals around the world. Next up: The Mill Valley Film Festival (Oct. 6th) and the The London Film Festival (Oct. 24th and 31st).
August 23, 2005:
The Matador had its Canadian premiere with a gala presentation at this year's Toronto International Film Festival on September 15, 2005.
August 18, 2005:
From The Hollywood Reporter: "Richard Shepard's black comedy The Matador, starring Pierce Brosnan and Greg Kinnear, will kick off the 31st Deauville Festival of American Cinema next month, organizers announced Thursday."
August 10, 2005:
The Weinstein Company has moved up the initial theatrical release date of The Matador from November 18, 2005 to November 4, 2005. The film will open in limited release (around 10 cities) and be expanded to more theatres in subsequent weeks.
January 25, 2005:
The Matador premiered at the 2005 Sundance Film Festival and walked away with great reviews and a $7.5 million deal with Miramax Films, the company that picked up the North American distribution rights to the movie! Read Roger Ebert's rave review and The Hollywood Reporter's news piece announcing the distribution deal.
Sundance's official summary of The Matador: If Pierce Brosnan wearing a black Speedo, cowboy boots, and sunglasses and smoking a cigar wasn't in itself worth the price of admission, everything else one gets in this rapturously conceived comedy about a lonely hit man would certainly be enough. But the glorious excesses that writer/director Richard Shepard offers are just part of the considerable range of payoffs that make The Matador a delightful mix of genres that simultaneously spoofs the buddy film, killers, and ordinary American life while it plumbs the complexities of the human heart.
When a traveling salesman, Danny Wright (Greg Kinnear), accidentally meets up with Julian (Brosnan), "a facilitator of fatalities," at a Mexico City bar, their subsequent evening together intertwines their lives in an unexpected, but lasting, bond. Each one is facing what could be a life-changing moment, and though they ostensibly have nothing in common, they're drawn together.
When the twists and turns of fate are revealed, it becomes clear that Shepard has crafted an enormously entertaining work that takes the hit-man film and spins it on its head while creating a funny and strangely poignant story that is original and genuinely moving. With an outrageously unique performance by Brosnan, and great turns by Kinnear and Hope Davis, The Matador is a film that will stay fixed in your memory long after the curtain has closed." (Geoffrey Gilmore)
October 23, 2004:
The Matador has locked picture and the team is moving on to Skywalker Ranch to work on the sound mix with Sound Designer Richard Hymns (Saving Private Ryan).
Richard Shepard: "We're all pretty excited; had a slew of little test screenings that have gone very well. Hopefully some decisions- such as how/where we try to sell the movie -that need to be made in the next few weeks will."
July 2, 2004:
Principal photography on The Matador has wrapped!
May 7, 2004:
Richard Shepard: "We're in the home stretch of the shoot - 22 days done, 18 to go. Things have been going really well. It's crazy shooting down here, especially with a star as big as Pierce [Brosnan], the paparazzi are all over -- even in helicopters over our set (ruining sound), but it's all fun and Pierce and Greg Kinnear are great together. Very funny. Hope Davis arrives in a few days, and we're all pysched for her."
March 8, 2004:
From The Hollywood Reporter:
Greg Kinnear and Hope Davis have joined Pierce Brosnan in the black comedy "The Matador" for writer-director Richard Shepard. Set to start shooting next month in Mexico City, "The Matador" centers on an unlikely friendship between a globe-trotting assassin (Brosnan) and a gullible young suburban couple from Denver (Kinnear, Davis). Financed by Stratus Film Co., "Matador" is being produced by Irish DreamTime partners Brosnan and Beau St. Clair along with Furst Films' Sean Furst and Bryan Furst. Stratus partners Bob Yari and Mark Gordon will receive executive producer credit. "We were knocked out when we read this script," Yari and Gordon said. "We expect this movie to have great commercial appeal throughout the world." Added Sean Furst: "It is rare to land your dream cast. The fact that it happened is a testament to the strength of this material, the tenacity of Stratus and the collective passion behind the project." David Tattersall is the director of photography, with Jim Lyons set as the film editor. Catherine Thomas will handle costume design, with production design by Robert Pearson. Kinnear is repped by CAA. Davis is repped by UTA and manager Perri Kipperman at LMRK. (Chris Gardner)
Principal photography on The Matador began in Mexico City on April 4, 2004. Pierce Brosnan, Greg Kinnear, and Hope Davis will be joined by Philip Baker Hall and Dylan Baker (who some of you may remember in his small but memorable role in OXYGEN as the FBI agent with the monologue).
May 6, 2003:
The original Hollywood Reporter story announcing the film:
Pierce Brosnan is finalizing a deal to star in Stratus Film Co.'s "The Matador," which New York-based filmmaker Richard Shepard wrote and will direct. A year-end start date is being planned with a budget of $20 million-$25 million. Furst Films and Irish Dreamtime are producing.
"Matador" is a thriller that follows the unusual friendship between two very different men set against an international backdrop. Brosnan will play Julian Noble, a hit man who has a breakdown while on assignment in Mexico City. There, he crosses paths with an ordinary, married businessman from Denver with problems of his own.
"The Cooler" producers Sean and Bryan Furst are producing "Matador" through their Furst Films along with Brosnan's producing partner Beau St. Clair in their Irish Dreamtime. Stratus' Bob Yari, Mark Gordon and Mark Gill are executive producing.
Furst optioned the material, and when Brosnan expressed an interest, the company partnered with Irish Dreamtime. Stratus came on board to finance, with Arclight Films is handling foreign sales on the film.
"We are excited to be working with such extremely gifted filmmakers like Richard Shepard and Sean and Bryan Furst," St. Clair said. "There aren't many projects that come along which stop you dead in your tracks and make you want to go into production immediately. We were committed to making this movie as soon as we read the script."
Added Sean Furst: "To say we are ecstatic to have Pierce Brosnan taking the lead in 'The Matador' is a huge understatement. We fell in love with Richard's screenplay immediately upon reading it and knew we needed an actor of Pierce's caliber to maximize its potential."
Bryan Furst said, "This is shaping up to be what we knew it could be -- a very commercial and unique film."
"Matador" reunites Irish Dreamtime with Stratus as the two are working on "Laws of Attraction," starring Brosnan, with New Line Cinema coming aboard in a negative pickup.
Shepard, repped by the Gersh Agency, wrote and directed the indie feature "Oxygen," starring Adrien Brody. Shepard also produced the indie feature "Scotland, PA."
Brosnan and Irish Dreamtime are repped by CAA, which packaged the project. (Zorianna Kit)
Go back to the The Films of Richard Shepard
www.richardshepard.com